SAVE THE DATE! We are proud to announce our second annual Block Party on October 16. See the attached flyer and embedded QR code, or the link below if you're interested in participating. Thank you Mr. Dyson for making our flyer! ***. ¡RESERVA! Estamos orgullosos de anunciar nuestra segunda Block Party anual el 16 de octubre. Vea el folleto adjunto y el código QR incorporado, o el enlace a continuación si está interesado en participar. ¡Gracias Sr. Dyson por hacer nuestro folleto! *** 保存日期!我们很自豪地宣布我们将于 10 月 16 日举行第二届年度 Block Party。如果您有兴趣参加,请参阅随附的传单和嵌入的二维码,或以下链接。感谢戴森先生制作我们的传单!
https://forms.gle/bUjAkqLNBjggRosu9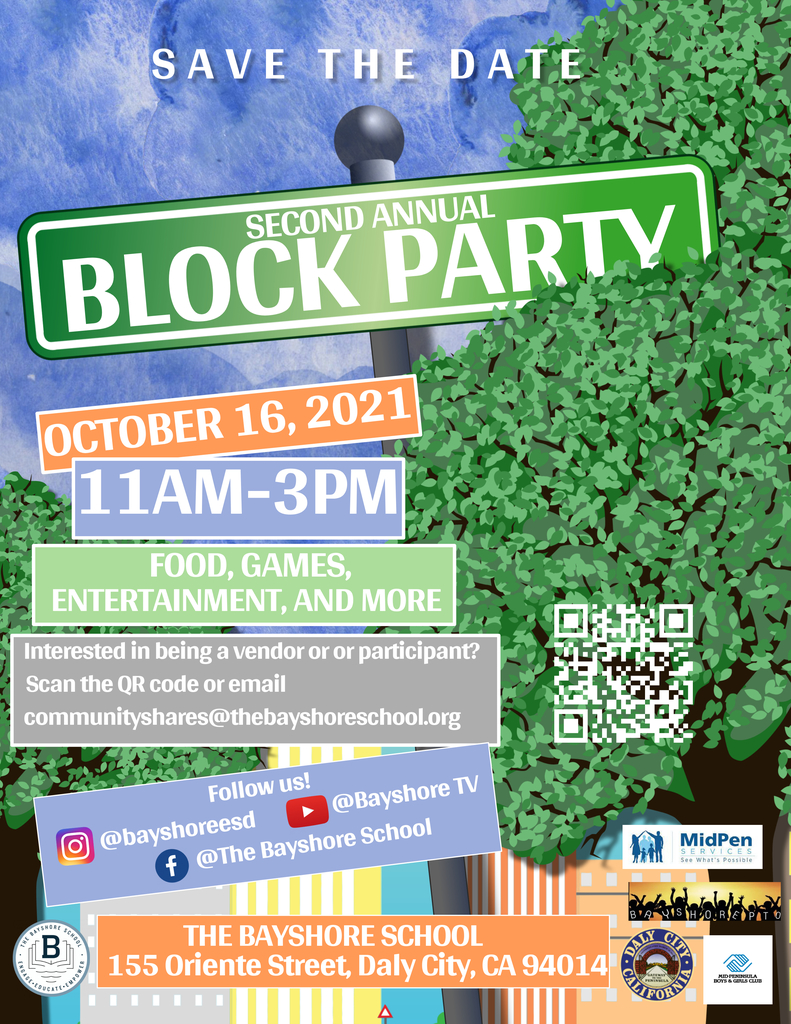 11am- 1pm covid vaccines at Bayshore, and walk ins are welcome! Please see flyer for details. *** 11 am- 1pm vacunas covid en Bayshore, ¡y las visitas sin cita previa son bienvenidas! Consulte el folleto para obtener más detalles. ***上午 11 点至下午 1 点在 Bayshore 接种 COVID 疫苗,欢迎步行!详情请参阅传单。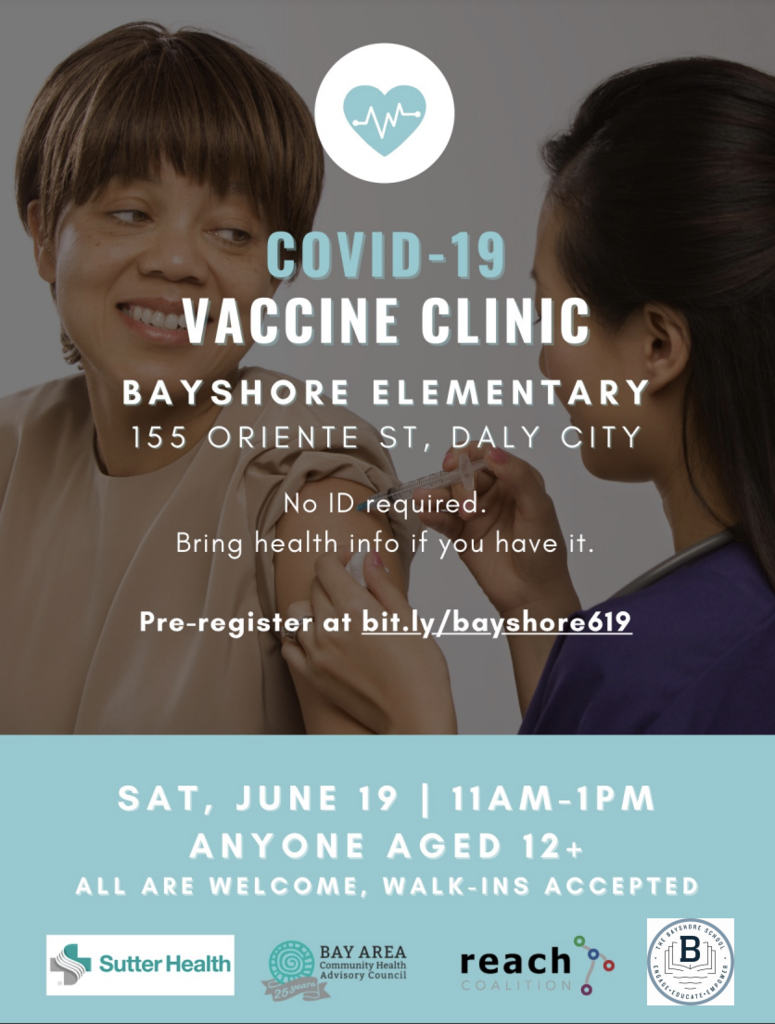 Happy Thursday, everyone! Please remember there is no camp tomorrow in honor of Juneteenth, which has now been designated a Federal Holiday. Celebrate our freedom and rights in honor of this special day, when slavery in the United States officially ended. Please remind campers to bring water bottles on Monday! See you then. ****¡Feliz jueves a todos! Por favor recuerde que mañana no habrá campamento. Celebre nuestra libertad y nuestros derechos en honor a este día especial, cuando terminó oficialmente la esclavitud en los Estados Unidos. ¡Recuerde a los campistas que traigan botellas de agua el lunes! Hasta entonces. ****大家周四快乐!请记住明天没有营地。庆祝我们的自由和权利,以纪念美国奴隶制正式结束的这个特殊日子。周一请提醒营员携带水瓶!回头见。

Bayshore family, yesterday afternoon, a group of Bayshore students had an encounter with a school bus driver south of Geneva near McDonald's that was alarming and strange. No one was hurt and the incident is under investigation with DCPD. Please be vigilant and aware in the community, and report ANY suspicious activity immediately to Ms. Baker or DCPD. ***Familia de Bayshore, ayer por la tarde, un grupo de estudiantes de Bayshore tuvo un encuentro con un conductor de autobús escolar al sur de Ginebra cerca de McDonald's que fue alarmante y extraño. Nadie resultó herido y el incidente está siendo investigado por DCPD. Esté atento y consciente en la comunidad, e informe CUALQUIER actividad sospechosa inmediatamente a la Sra. Baker o al DCPD. ***贝肖尔一家,昨天下午,一群贝肖尔学生在日内瓦以南麦当劳附近遇到了一名校车司机,令人震惊和奇怪。没有人受伤,DCPD 正在调查此事件。请在社区中保持警惕,并立即向 Baker 女士或 DCPD 报告任何可疑活动。

We had a great first day! Camp is in full swing now through July 9. This Friday, June 18, We will not hold a camp session and the office will be closed, in honor of Juneteenth. Though Juneteenth is not a nationally recognized holiday, as a school striving to hold anti- racist values, it is an important step for us to take. Honoring Juneteenth is the right thing to do to honor the long-awaited freedom of Blacks in the USA the same way. BGC will be open all day for those enrolled and needing childcare. PLEASE SEND A REUSABLE WATER BOTTLE WITH YOUR CHILD EVERY DAY. Due to Covid restrictions, kids can't access water fountains. Thank you! *** ¡Tuvimos un gran primer día! El campamento está en pleno apogeo desde ahora hasta el 9 de julio. Este viernes 18 de junio, no llevará a cabo una sesión de campamento y la oficina estará cerrada, en honor al 19 de junio. Es un día festivo reconocido a nivel nacional, como escuela que se esfuerza por mantener los valores antirracistas, es un paso importante que debemos dar. Honrar a June 19th es lo correcto para honrar la libertad tan esperada de African Americanos en USA de la misma manera. BGC estará abierto todo el día para aquellos inscritos y que necesiten cuidado de niños. ENVÍE UNA BOTELLA DE AGUA REUTILIZABLE CON SU HIJO TODOS LOS DÍAS. Debido a las restricciones de Covid, los niños no pueden acceder a las fuentes de agua. ¡Gracias!

COVID-19 Vaccine Clinic Saturday, June 19 11am - 1pm Anyone 12+ The Bayshore School 155 Oriente St, Daly City Pre-register at bit.ly/bayshore619 All are welcome, Walk-ins accepted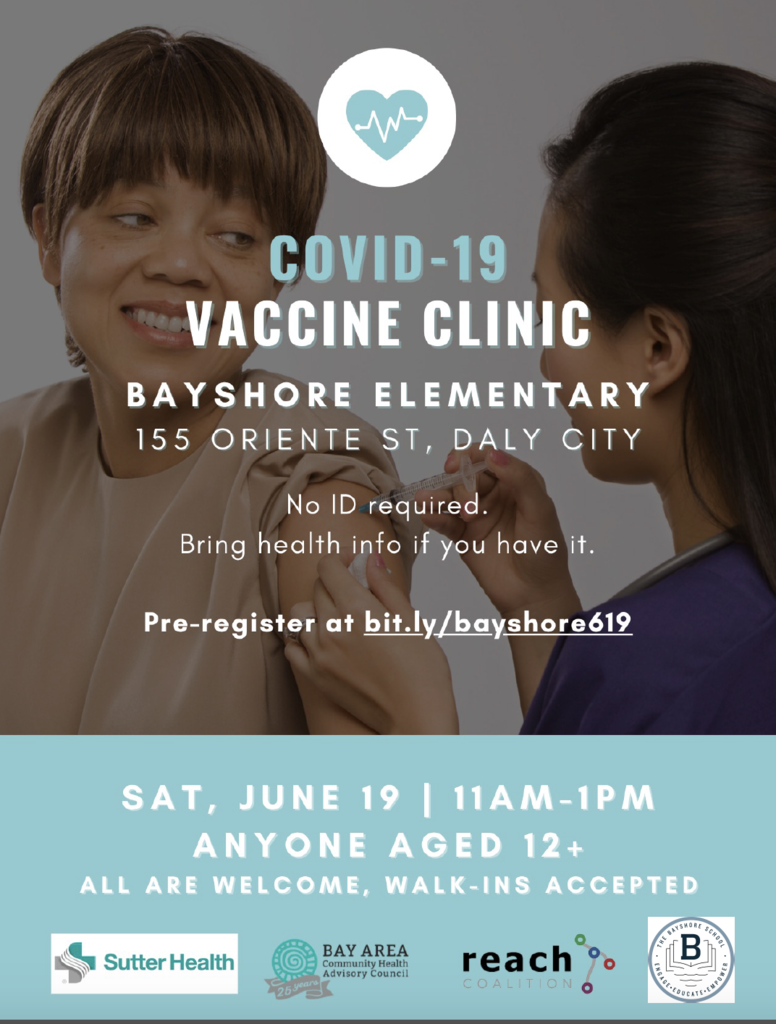 Dear Bayshore Families, We still have some 20-21 yearbooks available for purchase. Stop by the school office between 8 am - 4 pm to purchase one for $20. Purchase one before Friday, June 18. Estimadas familias de Bayshore, Todavía tenemos unos anuarios de 20-21 disponibles para su compra. Pase por la oficina de la escuela entre las 8 am y las 4 pm para comprar uno por $ 20. Compre uno antes del viernes 18 de junio.

Please remember to pick up report cards and bring in ALL technology and academic books this week to the gym between 8:30-12pm. If it is not received by Friday June 11, you will be mailed a bill for the technology you have not returned. Thank you! *** Por favor recuerde traer TODOS los libros académicos y tecnología, y recojer reportes de calificaciones, esta semana al gimnasio entre las 8: 30-12pm. Si no se recibe antes del viernes 6/11, se le enviará por correo una factura por la tecnología que no ha devuelto. ¡Gracias!



Due to a scheduling change, technology should NOT be brought to school Friday. Instead, please bring tech to campus Monday, June 7 from 8am-5pm or Tuesday through Thursday from 8:30-12. Thank you!

Good afternoon- Please remember that school is dismissed at noon on Friday. BGC will be open, but there will be no afternoon learning hubs. Tech can be brought in on Friday between 8:30-12 (morning is best!) or any day the following week between 8:30-3. Thank you!

All technology checked out from the school (chromebooks, iPads with covers, headphones, all hot spots) must be returned to campus on Friday, June 4 between 8:30-12 to the lunch area. Students unable to come Friday may also return devices from June 7-11 between 8:30-3pm to the office. Please be prepared to wait and turn on your device when delivering it. Families will need to fill out a report and potentially get billed if the device does not turn on or is damaged. Toda la tecnología extraída de la escuela (Chromebooks, iPads con cubredores, auriculares, todos los wifi portatil) debe devolverse al campus el viernes 4 de junio entre las 8: 30-12 al área de almuerzo. Los estudiantes que no puedan asistir el viernes también pueden devolver los dispositivos a la oficina del 7 al 11 de junio entre las 8:30 y las 3:00 p. M. Esté preparado para esperar y encender su dispositivo cuando lo entregue. Las familias deberán completar un informe y posiblemente se les facture si el dispositivo no se enciende o está dañado.

Summer Camp starts June 14! If you have not registered, please call Mrs. Bowman at 415.467.5443 ex 1 to register.


Reminder Free COVID-19 Testing Friday, May 21: 11-7 Saturday, May 22: 10-6 The Bayshore School 155 Oriente St

Incoming Kinder families, Welcome to Bayshore! I am Principal Maya Baker and I am thrilled to welcome you to our caring community - where we engage, educate, and empower every day. You will know if your child is placed with Mrs. Long or Mrs. Taylor when lists are posted in August. More information to come! Please remember that if enrollment documents are not complete, your student will not be able to start. You may call the office if you have any questions about your child's status. Here is your introduction to Kinder at Bayshore from our fabulous kinder teachers:
https://docs.google.com/presentation/d/1btSP_1WN-5bgsPgmFqt7EgE8DM6CS4a_s-suXFCDUnk/edit?usp=sharing


San Mateo County Health has confirmed that every Tuesday is a Pfizer Vaccination Clinic at the Daly City Youth Health Center for 12 yr olds and above. You can register for that specific location on the MyTurn.com website at
https://myturn.ca.gov/