All students and staff will receive an At-Home COVID-19 kit to test before returning to school on February 28. Please test on February 25 and February 27. If the test comes back positive, please stay home and call the school. Kits are going home Wednesday, Feb. 16. Please call the school with any questions. Todos los estudiantes y el personal recibirán un kit de COVID-19 en casa para realizar la prueba antes de regresar a la escuela el 28 de febrero. Realice la prueba el 25 y el 27 de febrero. Si la prueba da positivo, quédese en casa y llame a la escuela. Los kits se enviarán a casa el miércoles 16 de febrero. Llame a la escuela si tiene alguna pregunta. 在 2 月 28 日返回学校之前,所有学生和教职员工都将收到一个在家中进行测试的 COVID-19 工具包。请在 2 月 25 日和 2 月 27 日进行测试。如果测试结果呈阳性,请留在家里并致电学校。 工具包将于 2 月 16 日星期三回家。如有任何问题,请致电学校。





Free COVID-19 Testing EVERY FRIDAY, 8am - 8pm EVERY 2ND and 4TH SATURDAY, 8am - 8pm The Bayshore School 155 Oriente St Pre-register at
https://lhi.care/covidtesting
You MUST have an appointment.

Good afternoon families and staff- please don't forget to use your rapid test today, and the second on Sunday, per the instructions sent home before break. They are attached here if you lost them. A reminder that if your child tests, positive, is sick or has Covid symptoms, PLEASE KEEP THEM HOME and call the school to let us know. If you have ANY questions, please text Mrs. Baker at 415-601-6292 or email
mbaker@thebayshorechool.org
. Happy new year!! Bye 2021! ***por favor no olvide usar su prueba rápida hoy, y la segunda el domingo, según las instrucciones enviadas a casa antes de las vacaciones. Están adjuntos aquí si los perdió. Un recordatorio de que si su hijo da positivo, está enfermo o tiene síntomas de Covid, POR FAVOR MANTÉNALOS EN CASA y llame a la escuela para informarnos. Si tiene CUALQUIER pregunta, envíe un mensaje de texto a la Sra. Baker al 415-601-6292 o envíe un email a
mbaker@thebayshorechool.org
. ***请不要忘记在今天和周日使用您的快速测试,按照休息前寄回家的说明进行。如果您丢失了它们,它们会附在此处。提醒您,如果您的孩子检测呈阳性、生病或有 Covid 症状,请将他们留在家中并致电学校告知我们。如果您有任何问题,请发短信给 Baker 夫人 415-601-6292 或发送电子邮件至
mbaker@thebayshorechool.org
。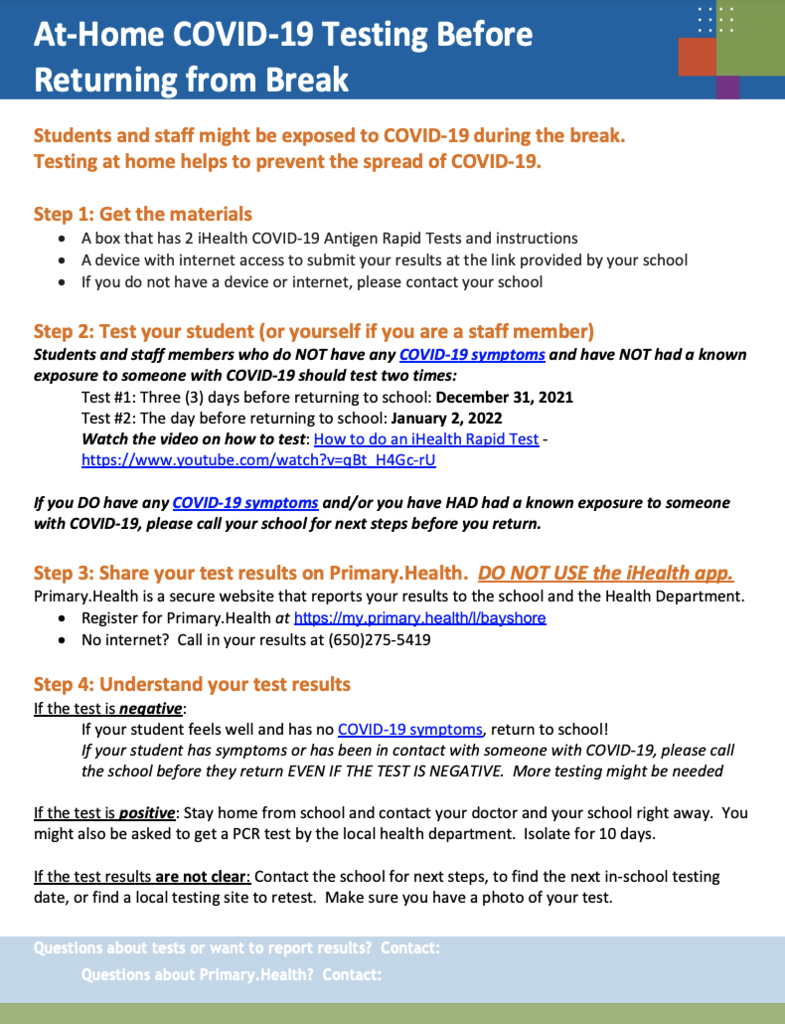 Bayshore Community- the food bank will be open tomorrow, Wednesday 12/22, 8:30-11:30. Happy Holidays! ***el banco de alimentos estará abierto mañana, miércoles 22/12, 8: 30-11: 30. ¡Felices vacaciones! ***食品银行将于明天 12 月 22 日星期三 8:30-11:30 开放。节日快乐!***bukas ang food bank, Miyerkules 12/22, 8:30-11:30.

All students and staff will receive an At-Home COVID-19 kit to test before returning to school on January 3. Please test on December 31 and January 2. If the test comes back positive, please stay home and call the school. Kits are going home Wednesday, Dec. 15. Please call the school with any questions. Todos los estudiantes y el personal recibirán un kit COVID-19 en el hogar para probar antes de regresar a la escuela el 3 de enero. Por favor, haga la prueba el 31 de diciembre y el 2 de enero. Si la prueba da positivo, quédese en casa y llame a la escuela. Regreso a casa el miércoles 15 de diciembre. Por favor llame a la escuela si tiene alguna pregunta. 在 1 月 3 日返校前,所有学生和教职员工将收到居家 COVID-19 试剂盒进行测试。请在 12 月 31 日和 1 月 2 日进行测试。如果测试结果呈阳性,请留在家中并致电学校。 套件将于 12 月 15 日星期三回家。如有任何问题,请致电学校。

Greetings Families! All elementary students Kindergarten through 5th Grade who will be performing Thursday Dec 16 should wear any combination of red, white, and green. Holiday hats, holiday sweaters, and holiday PJ's are welcome. No fancy clothes or costumes, please. Thanks! - Mr. Dyson

I am excited to share that all of our students now have access to digital books through the Daly City library at no charge. Students can access it at
https://soraapp.com/library/bayshoreca
. Students just need to log in using their Google sign-on.

Vaccination Clinic 5-11 year olds 3pm - 7pm 155 Oriente St WALK-INS WELCOME Enter at Garden Gate
Vaccination Clinic 5-11 year olds Monday, 12/6 3pm-6pm The Bayshore School 155 Oriente St Walk-ins welcome!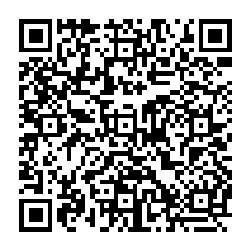 Dear 8th Grade Bayshore Families, Registration for JUHSD is available and began on November 15, 2021. Parents of 8th grade students attending Bayshore should have received an email from the Jefferson Union High School District regarding enrollments for the 2021-2022 school year. A.) If you received an email – follow the instructions in the email B.) If you did not receive an email on November 18th or by December 1st, please email the district at
registration@jeffersonunion.net
and include the following information: 1.) Parent Name 2.) Student Name 3.) Student Date of Birth 4.) Name of School Student is Currently Attending The deadline is to enroll is January 21, 2022. Please complete and submit enrollment to ensure school preference. Families will be notified in February of the assigned school. Enrollment assistance for parents/guardians is available through Zoom. Please follow this link
http://bit.ly/Help2122
to make an appointment. (Spanish and Tagalog translation is available). Computers are also available at the District Office. You can email Jo-Ann Fedaie,
jfedaie@jeffersonunion.net
to make an appointment to visit the District Office at 699 Serramonte Blvd, Suite 100 in Daly City, Monday-Friday between 8:30AM – 3:00PM. Please note, the district office will be closed from December 20th – December 31, 2021 for Winter Break. Should you need further assistance at Bayshore or have any questions, feel free to schedule an appointment with Mr. Brian (
bpatel@thebayshoreschool.org
).

Get ready for Bayshore's Virtual Winter Concert 2021! See the flyer for details! #CyberMonday only get your ticket for $7!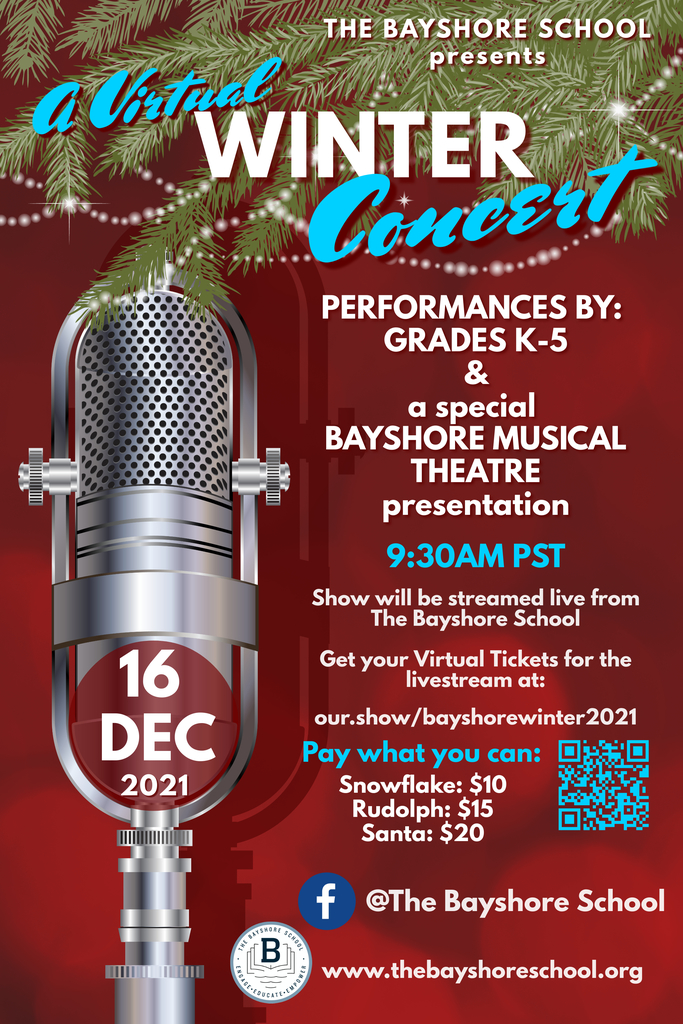 Bayshore Winter Concert 2021 will be Thursday December 16th at 9:30am. Due to Covid restrictions we are unable to have a live audience. However, we will be streaming live. Please visit our.show/bayshorewinter2021 to get your virtual tickets.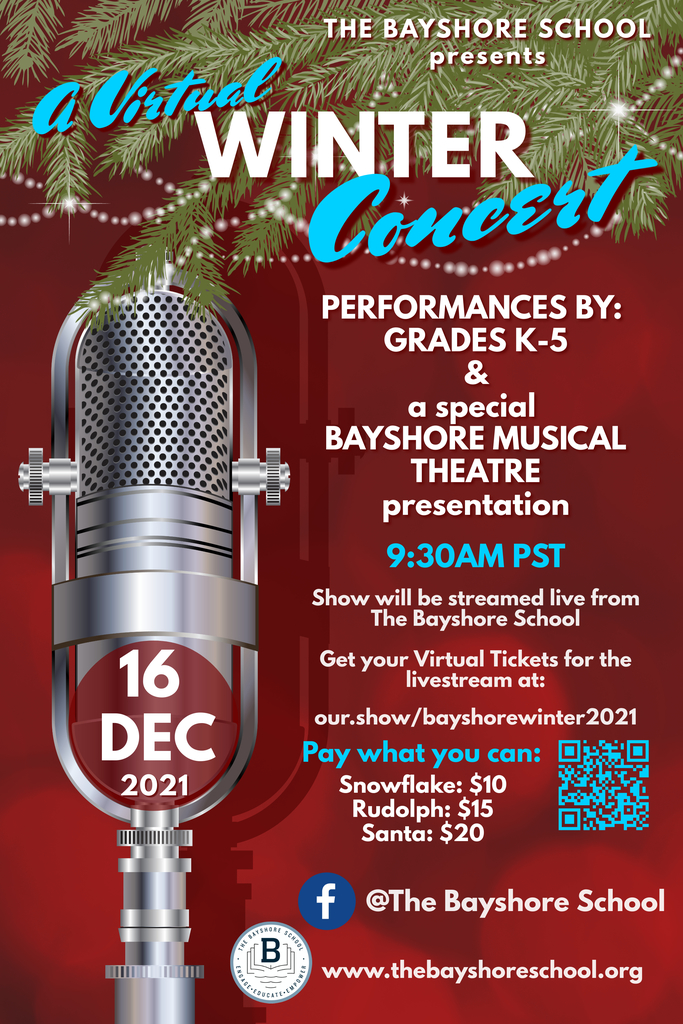 Reminder: Free COVID-19 Testing Friday and Saturday 8am-8pm The Bayshore School 155 Oriente St.