Summer School June 13 - July 8 9 am - 12pm Open to all current K-8 students

Assemblymember Ting is holding his annual bike safety fair at McCoppin Elementary School on Saturday, May 14. Please bring the whole family, kids of all ages can get training on how to ride a bike safely, learn about the Safe Routes to School program, and hear about legislation that affects our community. This event includes: bicycle obstacle course for safety training; bike riding lessons; bike safety adjustments and repairs; helmet giveaway and more. Bringing your own bike is encouraged but it is not required. Bikes will be available to borrow. Thanks to our partners: YBike, McCoppin PTO, San Francisco Bicycle Coalition, WalkSF and Bay Area Bike Mobile. I look forward to seeing you there, call my office at (415) 557-2312 if you have any questions. RSVP at
https://lcmspubcontact.lc.ca.gov/PublicLCMS/rsvp_const.php?dist=AD19&rsvpId=1067&bid=1065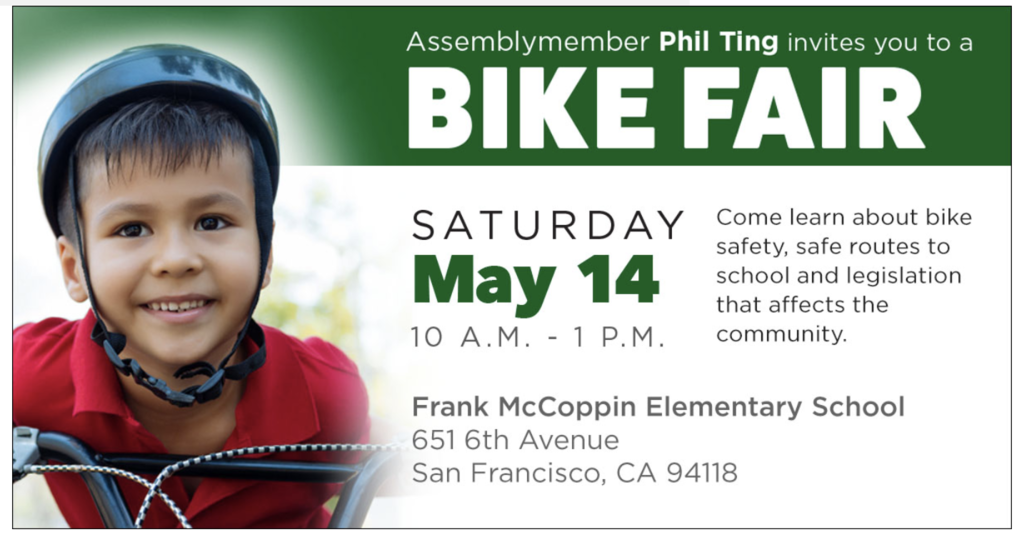 Superintendent Search The Bayshore School District Board of Trustees Board is in the process of conducting an Executive Search for the District's next Superintendent. To ensure this is a collaborative and inclusive process, the Board is providing an anonymous online survey to gather community input to help them inform their decision. This is an opportunity for students, staff, parents, and community to provide information to help guide the Board's decision. This survey is to be completed by May 6, 2022 at 10:00 PM Please follow the link below to provide your input: Survey Link:
https://forms.gle/6rgeUH7zANu4xbnF9
Information about the search can be found at:
https://www.thebayshoreschool.org/page/superintendent-search

Dear Bayshore Families, As we head in to the final trimester of the 2021-2022 school year, we are beginning to plan for both the 2022-2023 school year and updating our 3 year Local Control Accountability Plan (LCAP). Your voice and opinion matter. Please complete this survey so that we can use your feedback in planning our next steps. Bayshore Administration Survey Link:
https://forms.gle/ZnqfxZUFEwdBh4NH8

Hello Bayshore Families, PTO would like to invite you to our MIXXedFit Fundraiser on Wednesday, April 27, 2022 at the Bayshore gym from 4pm-5pm. The cost is $10 and only for 18+. Come sweat it out with us as we kick off Mental Health Month. Hope you can join us! Below is the flier and our Venmo QR code. Space is limited so register now at
http://www.signupgenius.com/go/60B0949AAAE2AA0F49-mixxed
Thank you, The Bayshore PTO Board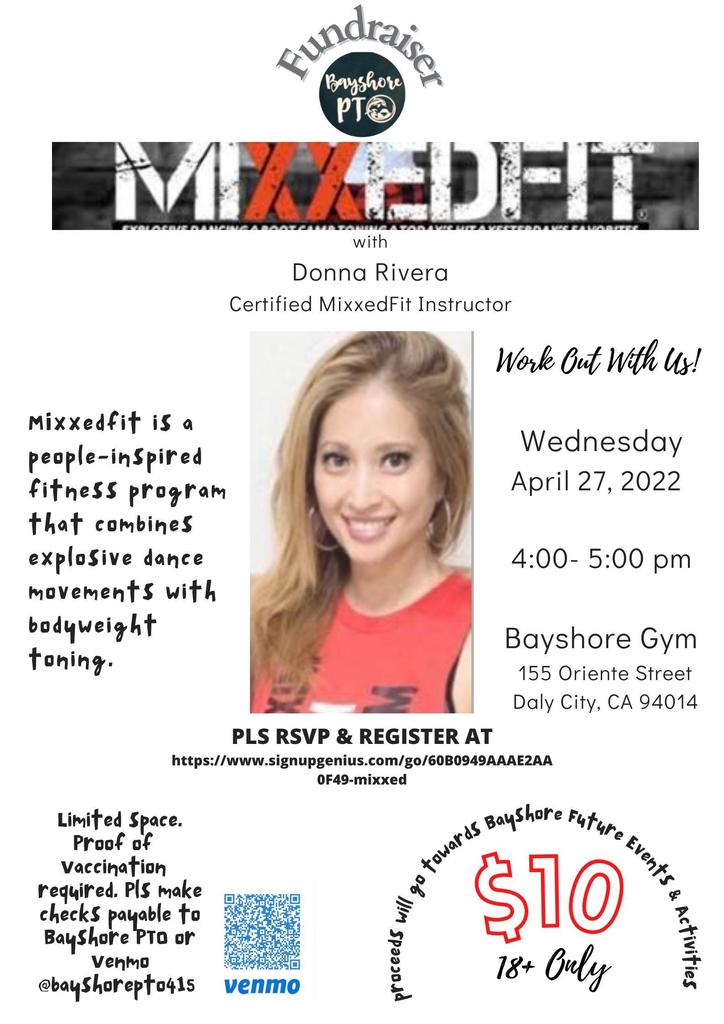 Bayshore Families, We are excited to hold our 2nd Annual Bayshore Summer Camp. Please complete the survey by Monday, April 25th, 3:00 p.m., if you are interested in attending this summer. Camp will be from June 13th - July 8th from 9:00 am - 12:00 pm. No school on Monday, June 20th (Juneteenth Holiday) and Monday, July 4th (4th of July Holiday) Lunch is provided. There is no cost to the camp for current Bayshore students. You can access the survey at:
https://forms.gle/E45Q1R5pqPf17dyM9
We are looking forward to a great summer! Bayshore Administration
Beginning Monday, April 18th, The Bayshore School will shift to Strongly Recommended for Mask Wearing. We will respect every individuals choice in mask wearing. We will continue to provide masks for all who want one. Please call the office if you have any questions.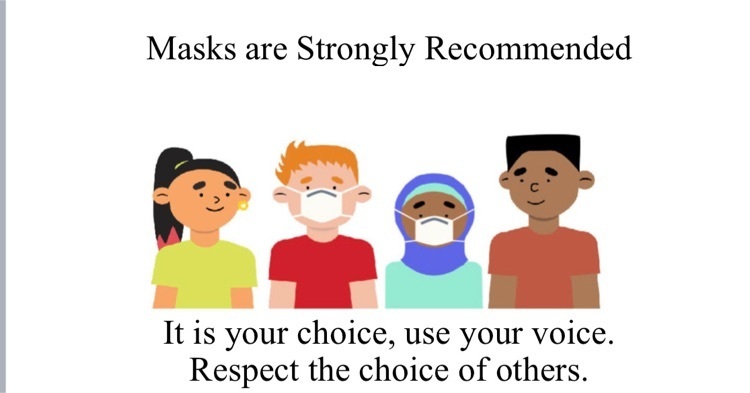 Get ready for Horton the Elephant, Jojo the Who, and the Cat In the Hat in Seussical Jr. the Musical live at The Bayshore School May 13th & 14th featuring some of our 2nd through 7th graders. Visit our.show/bayshoreseussicaljr to get tickets today.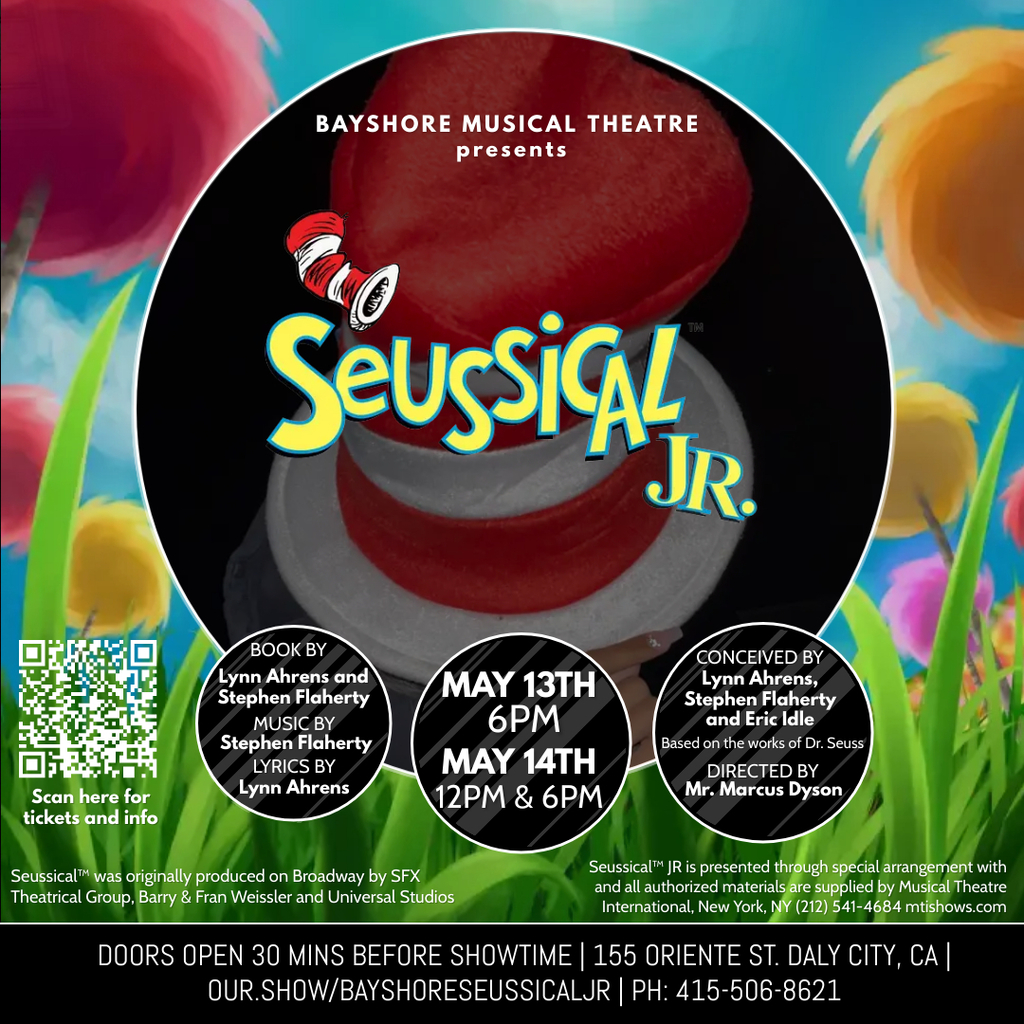 COW PALACE SPRING CARNIVAL PRESENTED BY BUTLER AMUSEMENTS April 7: 4PM - 10PM April 8: 4PM - 11PM April 9: 12PM - 11PM April 10: 12PM - 10PM FREE parking FREE admission Unlimited rides wristband ($35.00)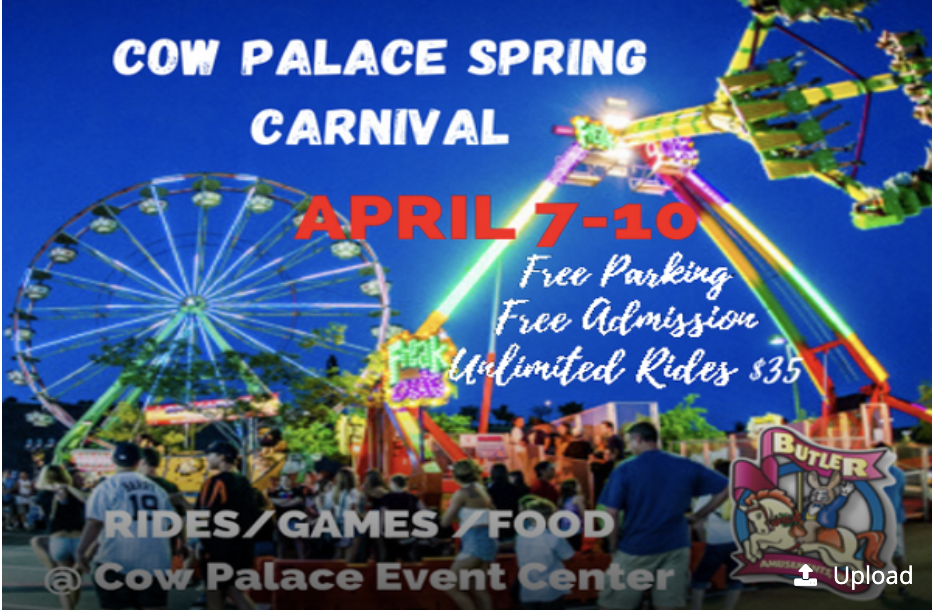 Dr. Pittman notified the Board Wednesday evening that she will be resigning from her position as Superintendent effective June 30th to pursue another opportunity. The Board would like to thank Dr. Pittman for her hard work, dedication, and service over the last nine years. During her tenure we were able to provide 1:1 technology to our students, build our new campus, open our pre-school program, and implement a scratch kitchen. The Board wishes Dr. Pittman all the best on her new endeavor. The Board will discuss and determine its next steps in finding her replacement in the coming weeks. Families, staff, and students will be offered opportunities to provide input on the characteristics of our next superintendent. Our goal is to have our new superintendent named and ready to start by July 1st. The Board will update the community formally at our April Regular Board Meeting. Sincerely, David Rudolph, Board President

The 2021-2022 Yearbook is available for purchase. Fully designed by middle school students. The pages are bright and colorful and reflective of the designer's individual personality. The yearbook will be a full-color, hardcover book and will cost $25 each. The projected delivery date for the yearbook is Tuesday, May 31. Purchase at
https://link.entourageyearbooks.com/my/TheBayshoreSchool2022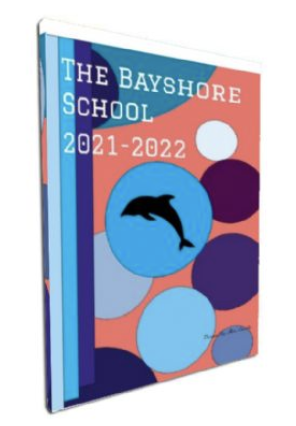 Bubble Tea PTO Fundraiser headed our way- see attached flyer for details.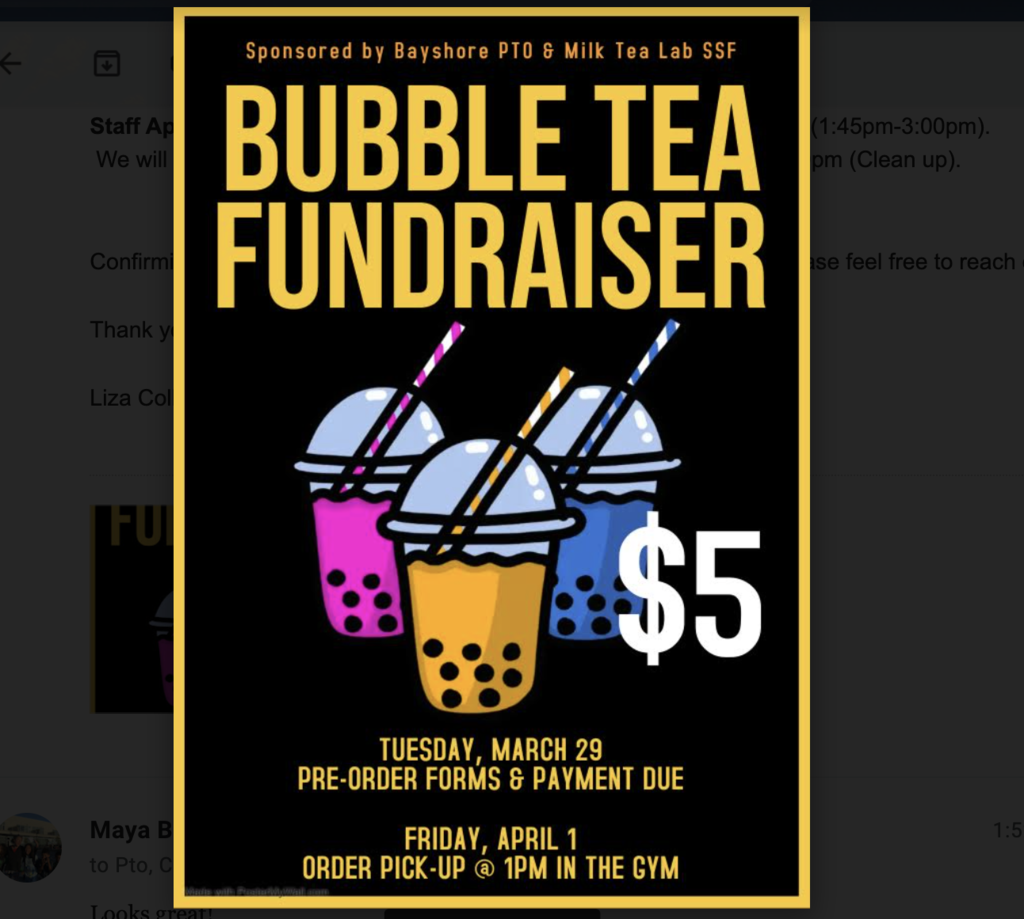 Saturday, March 26th, 11am - 3pm To honor Jefferson High School's Centennial, Jefferson would like for you to be a part of this historic family-friendly event! They will start with a parade down Mission Street at 11 am. Opening ceremonies include a tribute to Jefferson's own John Madden. This outdoor celebration will be filled with food, music, a car show, performances, exhibits, and vendors. Take a walk down memory lane, meet their wonderful students and staff, and tour the school! No entrance fee; parking is $10.

Arts, Media, & Entertainment students created Mental Health films in their AME class. Their films were entered into a film contest. One of the films made it to regional! Please help us offer congratulations to 8th Graders Francesca, Jordan, Alex, Jared, Alden, and Janessa!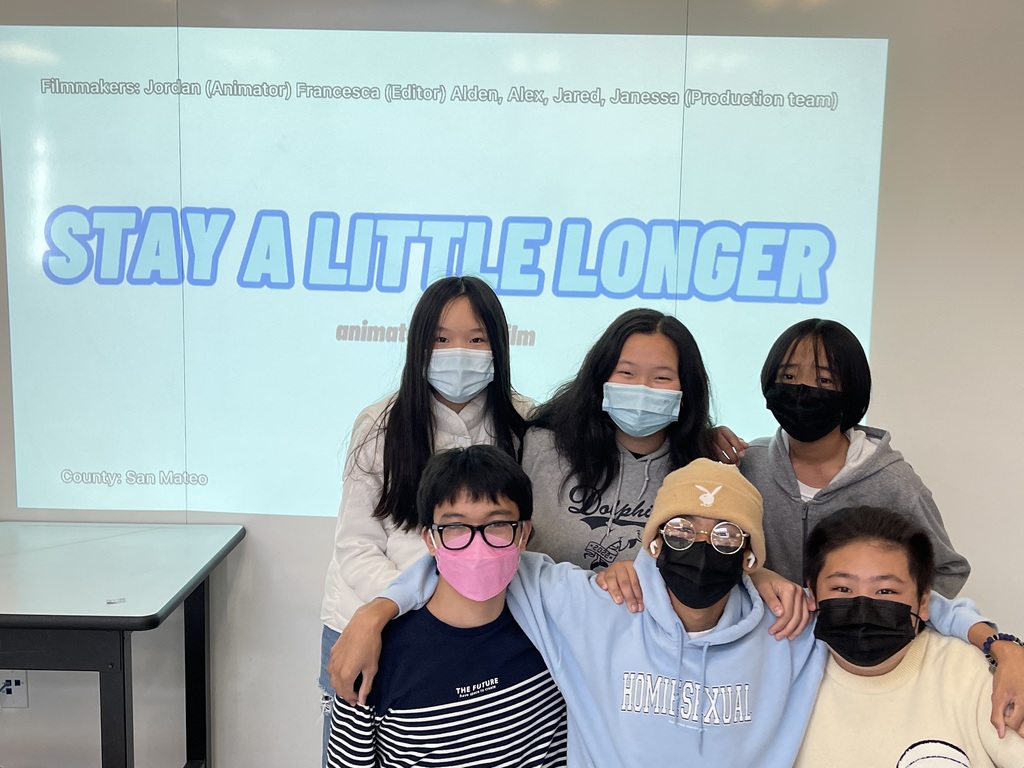 It's official! The Daly City Library BAYSHORE Branch is now open with extended hours. Monday - Wednesday: 10:00 am - 6:00 pm Thursday: 2:00 pm - 8:00 pm Friday: 12:00 pm - 6:00 pm Located at 460 Martin St. (Above the BCG Club)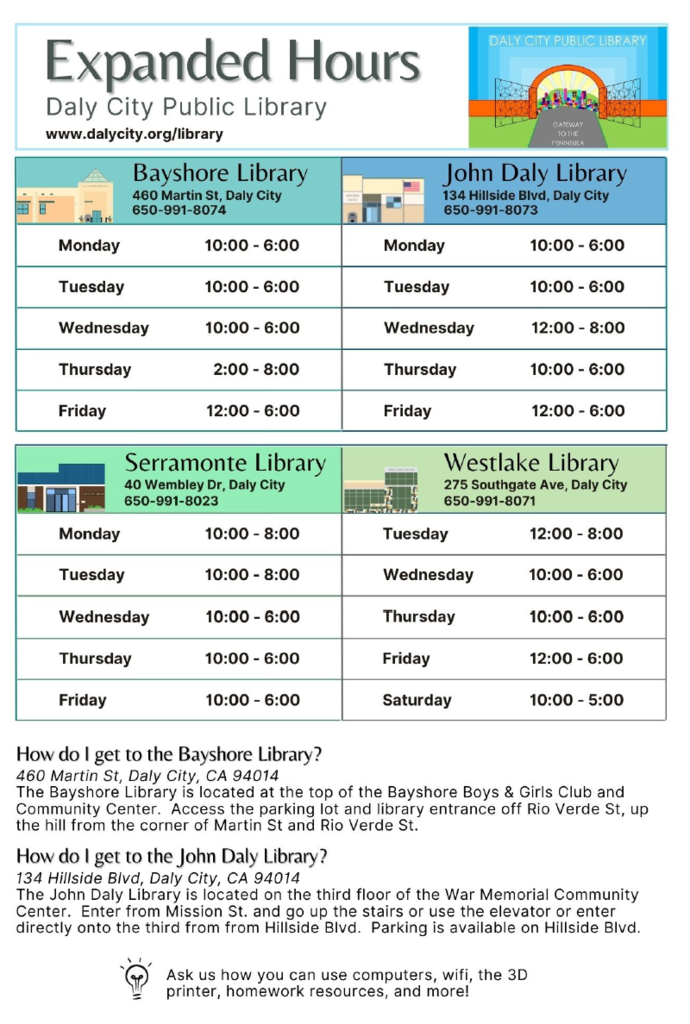 Pop-up Vaccination Clinic Today 1:30 pm - 6:00 pm San Bruno Park School District Health Center 450 3rd Ave, San Bruno Register at
https://tinyurl.com/SBPSDvaccine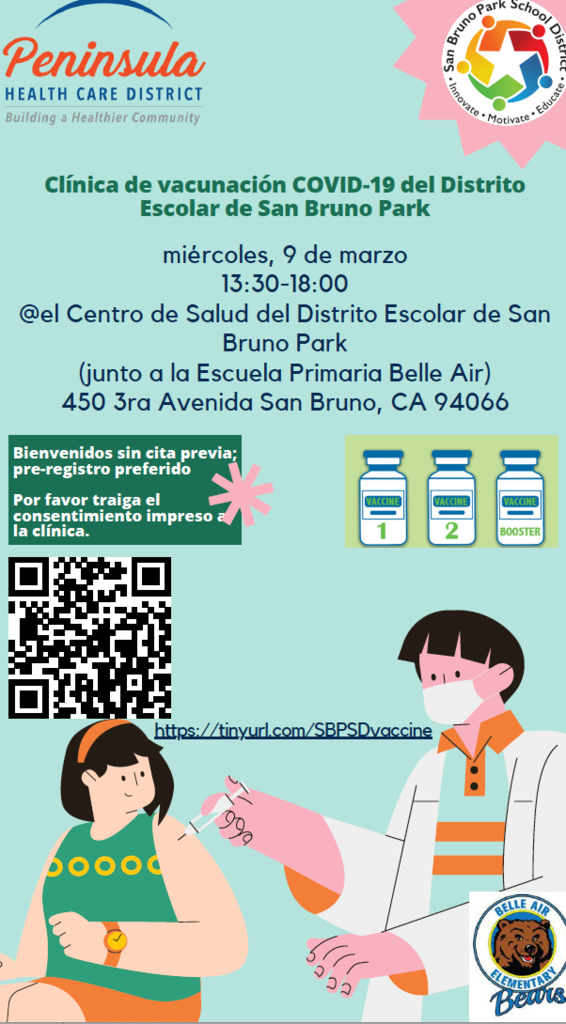 BAYSHORE COMMUNITY CLEAN UP sponsored by Youth Particapatory Action Research team and your PTO Tuesday March 8 TODAY! and Thursday, March 10 2-3pm Parents check in with PTO at the Garden Gate, clean up perimeter of school Thank you students, thank you PTO. It truly takes a village. SEE YOU THERE! ** LIMPIEZA COMUNITARIA DE BAYSHORE patrocinado por el equipo de Investigación de Acción Participativa Juvenil y su PTO Martes 8 y martes 10 de marzo 14:00-15:00 Los padres se registran con el PTO en la entrada de la escuela, limpian el perímetro de la escuela Gracias estudiantes, gracias PTO. Realmente se necesita un pueblo. ¡TE VEO ALLÍ!** 海湾社区清理 由青年参与行动研究团队和您的 PTO 赞助 3 月 8 日星期二和 3 月 10 日星期二 下午 2-3 点 家长在学校入口处与 PTO 签到,清理学校周边 谢谢同学们,谢谢PTO。这真的需要一个村庄。 到时候那里见!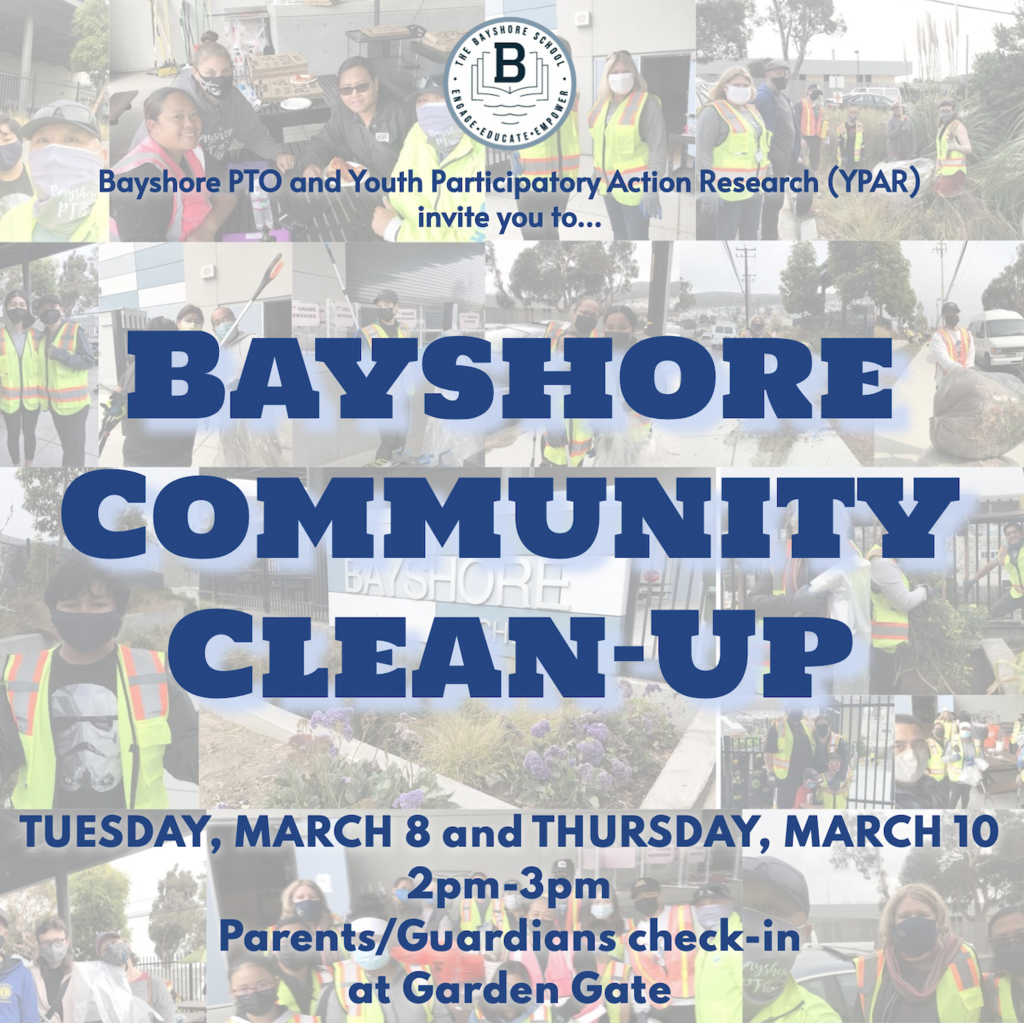 This is Read Across America Week! See picture for Spirit Week and be on the lookout for our reading challenge!