If your child is in Mr. Herrige's class, please check your email for some important information. If your child is in Ms. Mary Catherine's class, please disregard this message. Thank you, Principal Baker


Correction: The due date for T shirt submissions is Monday August 30. Thank you!

Bayshore Family, Students can submit drawings to be considered for the October 16 Block Party T shirt design by Monday, August 23. The Theme is FAMILY, and the winner will get a free t shirt! Drawings should be clear and black and white. Please contact Principal Baker with any questions.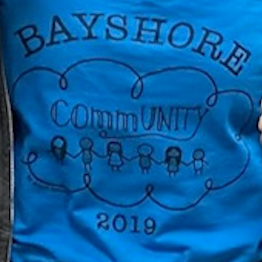 PTO Meeting, August 26 at 6pm in the gym! Please RSVP via this form (glitch has been fixed):
https://forms.gle/Ju5k6j4Lzm4LuGtbA
These protocols must be followed: Entrance from side entrance of gym Temperature Check Sign-in sheet Masks required Multiple hand sanitizing stations Benches spread out for physical distancing Dinner is grab and go at the end of the meeting

Please RSVP to the first Bayshore PTO meeting of the school year, Thursday, August 26 at 6pm in the gym, by filling out the attached form. Dinner will be served and masks are required!
https://forms.gle/zQEQVMarV83QMjMX8
***Por favor confirme su asistencia a la primera reunión de Bayshore PTO del año escolar, el jueves 26 de agosto a las 6 pm en el gimnasio, completando el formulario adjunto. ¡Se servirá la cena y se requieren máscaras! **. 请填写随附的表格,回复 8 月 26 日星期四下午 6 点在体育馆举行的学年第一次 Bayshore PTO 会议。提供晚餐,需要戴口罩***.Mangyaring mag-RSVP sa unang pagpupulong ng Bayshore PTO ng taong pasukan, Huwebes, Agosto 26 ng 6 ng gabi sa gym, sa pamamagitan ng pagpunan ng kalakip na form. Hinahain ang hapunan at kinakailangan ang mga maskara!
https://forms.gle/zQEQVMarV83QMjMX8

Dear Bayshore Families, The beginning of the year forms are now available to complete. We were experiencing technical issues with logging onto the website but it should work now. Please log on to, bayshore.schoolwise.com, choose the online registration tab and click on First Day Packets. All forms must be completed by every family by Tuesday, August 24. If you have any questions, please contact Mrs. Bowman.

Bayshore Family, As we roll into day two, we clearly need to revise pick up of children. Never have we had to tell families they cannot enter campus, which has made things complicated! This is due to Covid regulations. Kinder will be picked up by the garden gate in the parking lot. Grades 1-5 will wait in the lunch area, and staff will radio for children to be brought to garden gate or Schwerin Gate. Graders 6-8 will be dismissed through the gym. Walkers can go to Garden Gate or Schwerin gate. All driver must go through the parking lot. Thank you for your patience and understanding. ******Familia Bayshore, A medida que avanzamos hacia el segundo día, es evidente que necesitamos revisar la recogida de niños. Nunca hemos tenido que decirles a las familias que no pueden entrar al campus, ¡lo que ha complicado las cosas! Esto se debe a las regulaciones de Covid. Kinder será recogido por la puerta del jardín en el estacionamiento. Los grados 1-5 esperarán en el área del almuerzo, y el personal llamará por radio para que los niños sean llevados a la puerta del jardín o la puerta Schwerin. Los estudiantes de 6.º a 8.º grado saldrán por el gimnasio. Los caminantes pueden ir a Garden Gate o Schwerin Gate. Todo conductor debe pasar por el estacionamiento. Gracias por su paciencia y comprensión.

Good morning and happy first day, everyone! Two reminders: Families may not come onto campus. Only students are allowed on campus. If you need to do business with the office, come through the front door. If you are driving your child to school, you must go through the parking lot entrance on Otillia and use the drop off zone. If you are walking your child to school, you may use the Schwerin gate. DRIVERS MAY NOT USE THE SCHWERIN GATE. ***¡Buenos días y feliz primer día a todos! Dos recordatorios: las familias no pueden ingresar al campus. Solo los estudiantes pueden ingresar al campus. Si necesita hacer negocios con la oficina, pase por la puerta principal. Si conduce a su hijo a la escuela, debe pasar por la entrada del estacionamiento en Otillia y usar la zona de entrega. Si va a acompañar a su hijo a la escuela, puede usar la puerta de Schwerin. LOS CONDUCTORES NO PUEDEN UTILIZAR LA PUERTA SCHWERIN.

Bayshore Family, Some important notes: -Drop off by car MUST be through the parking lot. Only walkers may enter through the Schwerin & GARDEN gate. -Breakfast is served between 7:45-8:15am in the lunch area. -Regular drop off is between 8-8:20am. -Masks are required inside the building. -Students are dismissed at 1 pm this first week. Dismissal at 3pm will begin the week of 8/16. Wednesdays dismissal is 1pm. -Uniform is blue pants/ light blue polo for K-5. black pants grey top for 6-8. All grade levels may wear Bayshore swag instead. See you soon! ****Familia Bayshore, Algunas notas importantes: -La bajada en automóvil DEBE ser a través del estacionamiento. Solo los caminantes pueden entrar por la puerta Schwerin & GARDEN. -El desayuno se sirve entre las 7: 45-8: 15 am en el área de almuerzo. -La entrega regular es entre las 8-8: 20 am. -Se requieren máscaras dentro del edificio. -Los estudiantes salen a la 1 pm esta primera semana. La salida a las 3 pm comenzará la semana del 8/16. La salida de los miércoles es a la 1 pm. -El uniforme es pantalón azul / polo azul claro para K-5. pantalón negro top gris para 6-8. Todos los niveles de grado pueden usar el botín de Bayshore en su lugar. ¡Nos vemos pronto!

SEVENTH GRADE CLASS LIST paper towels hand sanitizer kleenex hand soap boxes of extra face masks composition books wide ruled - 100 (1 for science on one for math IF we aren't being supplied with student workbooks for math curriculum) sketch book (small size, cardboard front, same as last year) pencils colored pencils (class set of mixed colors - 25) highlighters (class set of mixed color pack - 25) 2 class sets of folders (pocket in each side, durable material, all the same color) class set of basic calculators - 25

Hello Families! We have some supplies lists for fifth and sixth grades: FIFTH composition notebook graph paper composition book colored pencils Markers pens (black or blue) pencil top erasers packs of Post-its (all sizes) Glue sticks Scissors Rulers Folders in 2 colors thin tip dry erase markers Construction paper in various colors Backpack Water bottle Disinfecting wipes Paper plates Napkins Tissue boxes Hand sanitizer Dry erase markers Pencils top erasers Markers Colored pencils Glue sticks Scissors Post-its Construction paper -Gluesticks -Markers -post-it notes -notecards -Colored Paper (construction or copy) -Highlighters -Sketchpad (with blank paper) (for science) -2 journals 140 pages / 70 sheets (for writing/reading- different colors preferably) Optional: -Dry erase markers -Paper Towels -Tissue -Hand Sanitizer -Clorox Wipes -copy paper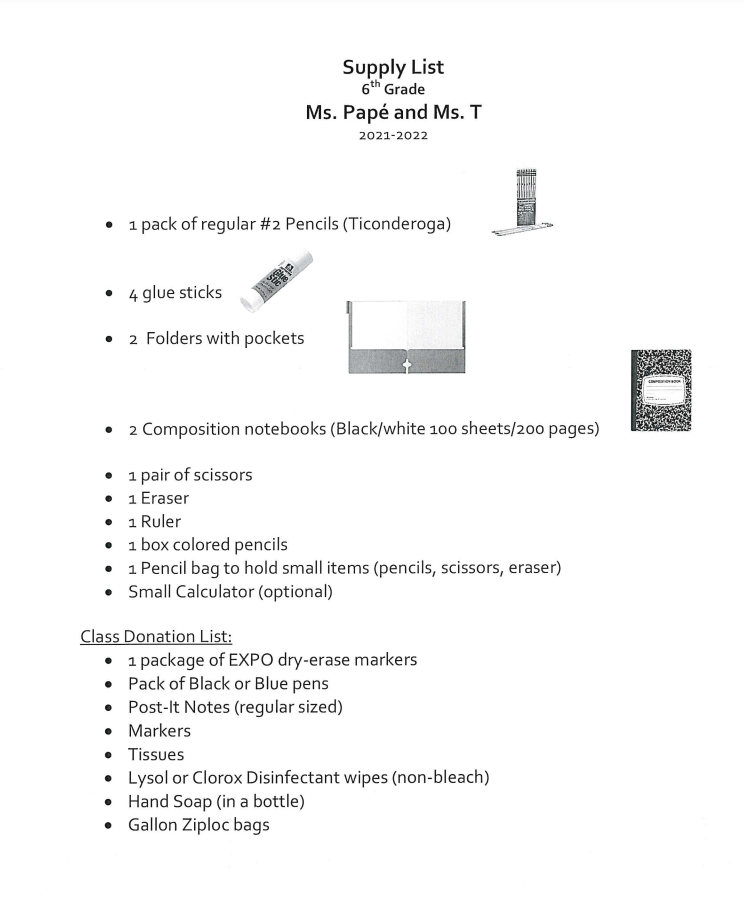 Effective 12;01 a.m. on Tuesday, August 3rd, the 8 Bay Area health officers issued updated Health Orders requiring masks indoors in public place. The Orders require all individuals, regardless of vaccination status, to wear face coverings when indoors in public sections. Everyone on campus is expected to wear a mask while indoors. You can access the full order at
https://www.smchealth.org/health-officer-updates/8221-ho-order-c19-12-face-covering

Hello, dear families! We are so excited to see your children next week, on August 11 for the first day of school. As a reminder, the uniform for the 2021-22 school year for grades K-5, it will remain a light blue polo on top and dark blue bottoms. For grades 6-8, the students voted on black bottoms and a grey top which could be a hoodie, polo, or t shirt with no logo. ALL GRADES CAN ALSO WEAR ANY BAYSHORE GEAR OR SCHWAG. **.Nos complace anunciar el uniforme para el año escolar 2021-22. Para los grados K-5, seguirá siendo un polo azul claro en la parte superior y la parte inferior azul oscuro. Para los grados 6-8, los estudiantes votaron por pantalones negros y una camiseta gris que podría ser una sudadera con capucha, polo o camiseta sin logo. TODOS LOS NIVELES DE GRADO TAMBIÉN PUEDEN LLEVAR CUALQUIER EQUIPO DE BAYSHORE O SCHWAG. **我们很高兴地宣布 2021-22 学年的校服。对于 K-5 年级,它的上衣和深蓝色马球衫将保持浅蓝色。对于 6-8 年级,学生们投票选择黑色下装和灰色上衣,上衣可以是连帽衫、马球衫或没有标志的 T 恤。所有年级也可以佩戴任何 BAYSHORE GEAR 或 SCHWAG。**Masaya kaming inihayag ang uniporme para sa 2021-22 taong pasukan. Para sa mga markang K-5, mananatili itong isang ilaw na asul na polo sa tuktok at madilim na asul na ilalim. Para sa mga marka 6-8, ang mga mag-aaral ay bumoto sa mga itim na ilalim at isang kulay abong tuktok na maaaring isang hoodie, polo, o t shirt na walang logo. ANG LAHAT NG GRADE LEVELS AY MAAARING MAGDAMIT NG ANUMANG BAYSHORE GEAR O SCHWAG.

Get ready to be entertained by students, staff, and alumni in The Bayshore's Got Talent Virtual Talent Show! Premiering this Friday July 23rd on Bayshore TV's YouTube channel. Visit this link
https://youtu.be/rwq4x_lv71k
for more details.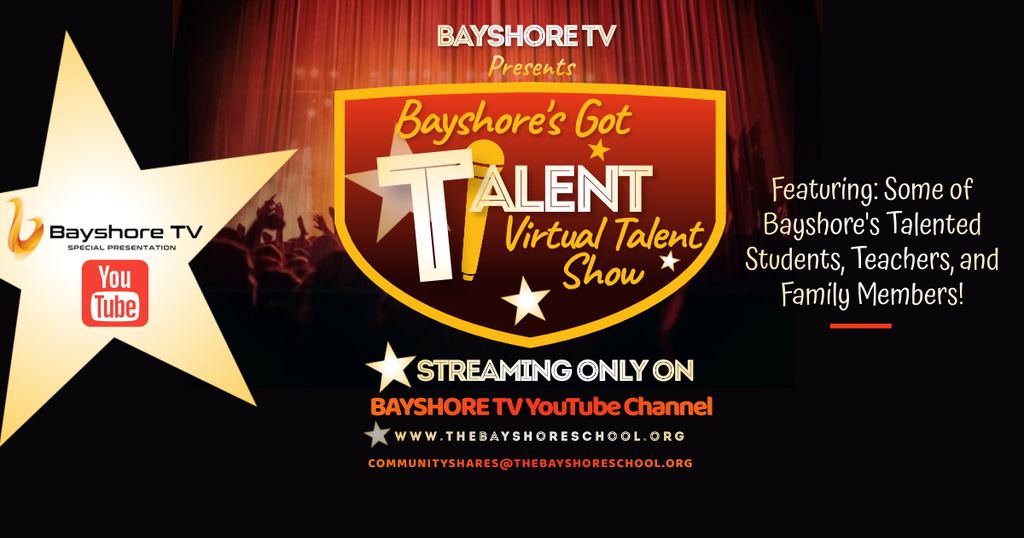 Back pack Give-Away Join us on Saturday, August 7, 9 am - 11am for our annual back pack giveaway sponsored by Pacific Islands Together (PIT). Who: All students What: Drive thru back pack giveaway Where: The Bayshore School, 155 Oriente St. When: Saturday, August 7, 9am - 11am Pre-register by 7/31 at
www.pitogether.com/back-pack-giveaway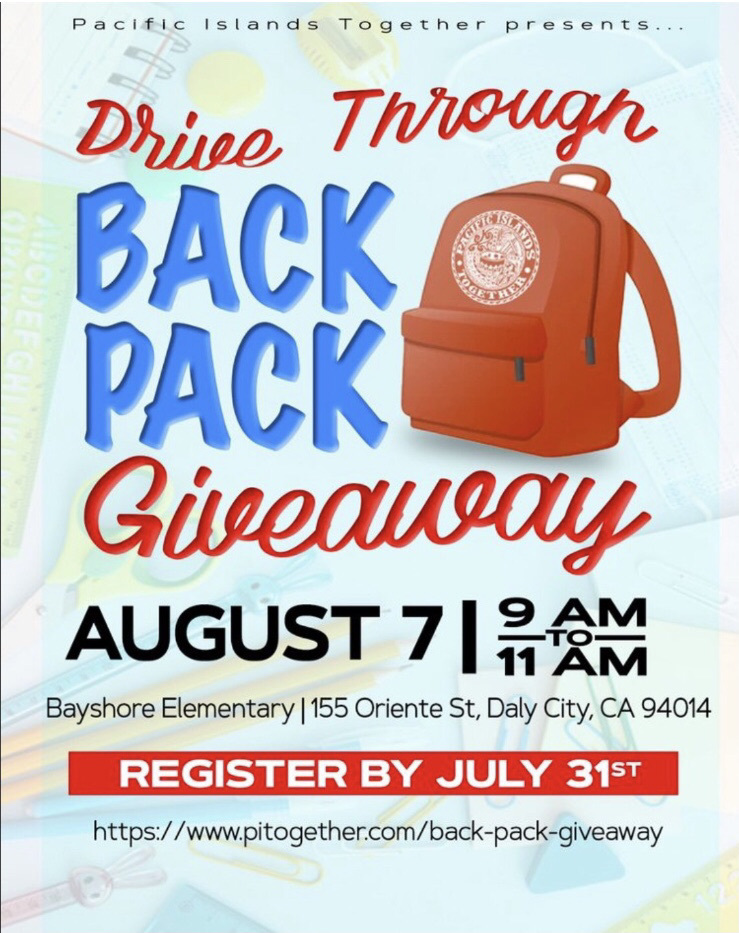 Dear Camp families, thank you for a terrific month of camp! Your kids helped make it successful and we will miss them. Please remember CAMP IS OVER. There is no camp tomorrow. See you all for the first day of school on August 11! *****.Estimadas familias del campamento, ¡gracias por un excelente mes de campamento! Sus hijos ayudaron a que fuera un éxito y los extrañaremos. Recuerde que EL CAMPAMENTO HA TERMINADO. Mañana no hay campamento. ¡Nos vemos en el primer día de clases el 11 de agosto!

Dear Camp families, Please remember there is NO CAMP on Monday, July 5 in observance of Independence Day. Also remember, if you are driving your student to camp, use the drop off area in the parking lot and enter through the garden gate. If you are walking, use the Schwerin gate. We cannot have cars double parking on Schwerin. Thank you! ***.Por favor recuerde que NO HAY CAMPAMENTO el lunes 5 de julio en observancia del Día de la Independencia. También recuerde, si lleva a su estudiante al campamento, use el área de entrega en el estacionamiento y entre por la puerta del jardín. Si está caminando, use el gate Schwerin. No podemos permitir que los coches se estacionen en doble fila en Schwerin. ¡Gracias! ***

A reminder to save the date for our Block Party- and please fill out the google form attached if you are interested in hosting a booth! There is also a QR code in the flyer. Thank you!
https://forms.gle/yHYvtix49XZa2rh78
****. Un recordatorio para reservar la fecha para nuestra fiesta en la comunidad y, por favor, complete el formulario de Google adjunto si está interesado en organizar un stand. También hay un código QR en el volante. ¡Gracias! ****.提醒保存我们的 Block Party 的日期 - 如果您有兴趣举办展位,请填写随附的谷歌表格!传单中还有一个二维码。谢谢!*****Isang paalala upang i-save ang petsa para sa aming Block Party- at mangyaring punan ang naka-attach na form sa google kung interesado kang mag-host ng isang booth! Mayroon ding isang QR code sa flyer. Salamat!