Bubble Tea PTO Fundraiser headed our way- see attached flyer for details.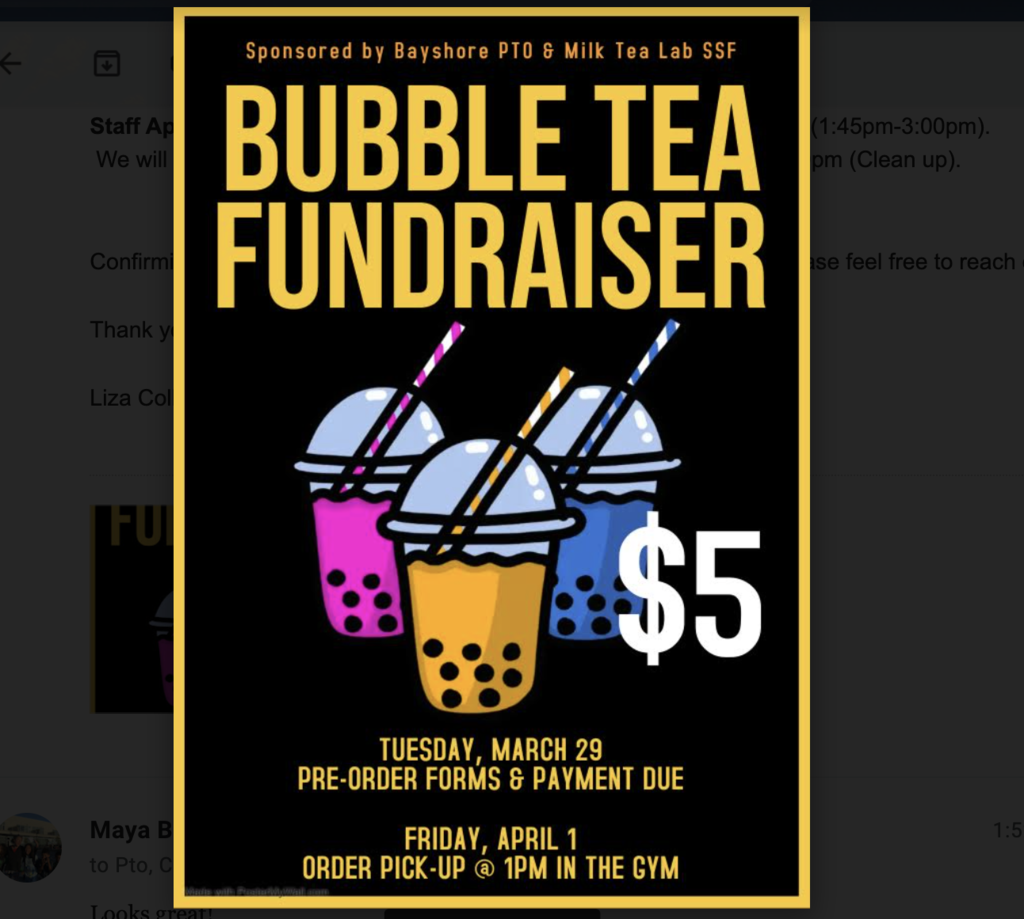 Saturday, March 26th, 11am - 3pm To honor Jefferson High School's Centennial, Jefferson would like for you to be a part of this historic family-friendly event! They will start with a parade down Mission Street at 11 am. Opening ceremonies include a tribute to Jefferson's own John Madden. This outdoor celebration will be filled with food, music, a car show, performances, exhibits, and vendors. Take a walk down memory lane, meet their wonderful students and staff, and tour the school! No entrance fee; parking is $10.

Arts, Media, & Entertainment students created Mental Health films in their AME class. Their films were entered into a film contest. One of the films made it to regional! Please help us offer congratulations to 8th Graders Francesca, Jordan, Alex, Jared, Alden, and Janessa!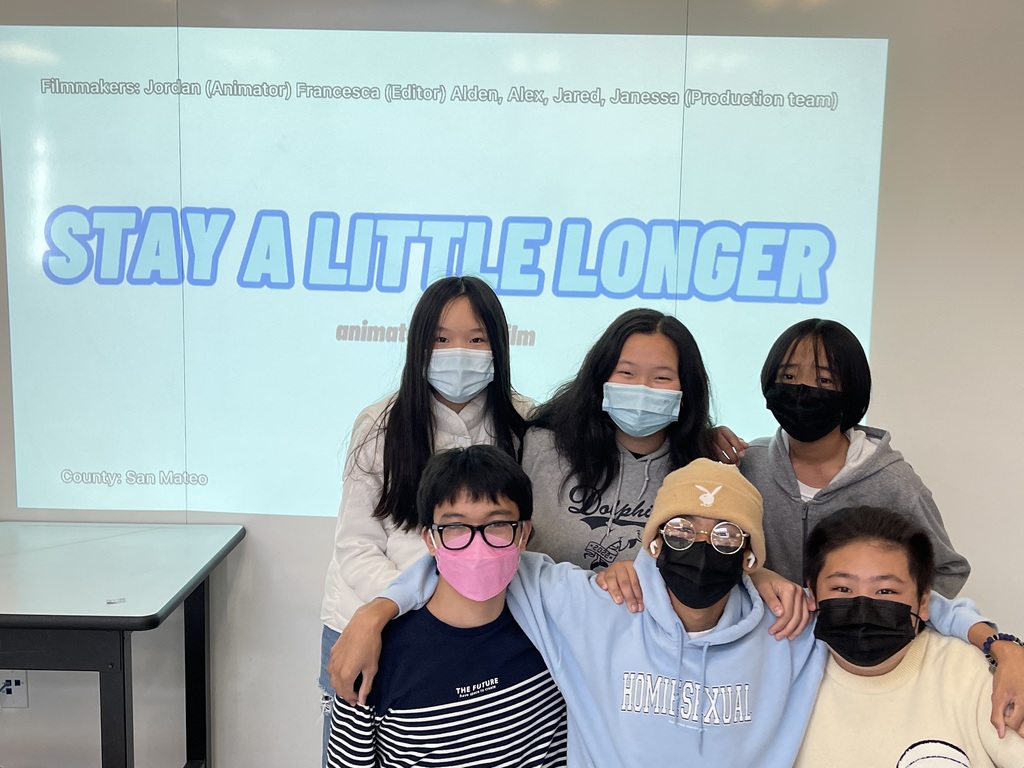 It's official! The Daly City Library BAYSHORE Branch is now open with extended hours. Monday - Wednesday: 10:00 am - 6:00 pm Thursday: 2:00 pm - 8:00 pm Friday: 12:00 pm - 6:00 pm Located at 460 Martin St. (Above the BCG Club)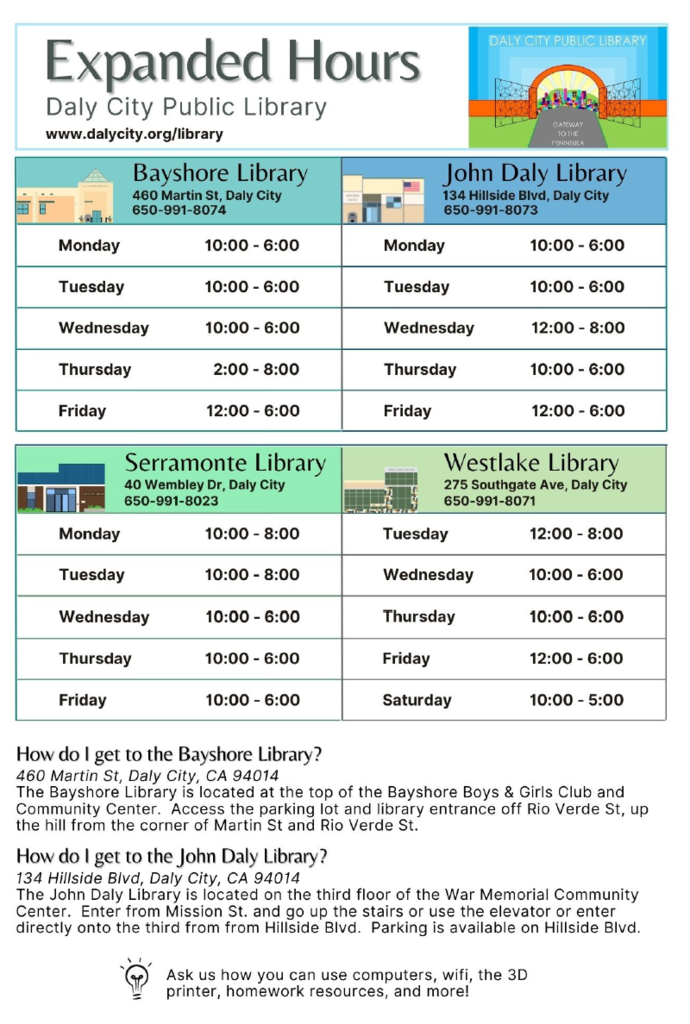 Pop-up Vaccination Clinic Today 1:30 pm - 6:00 pm San Bruno Park School District Health Center 450 3rd Ave, San Bruno Register at
https://tinyurl.com/SBPSDvaccine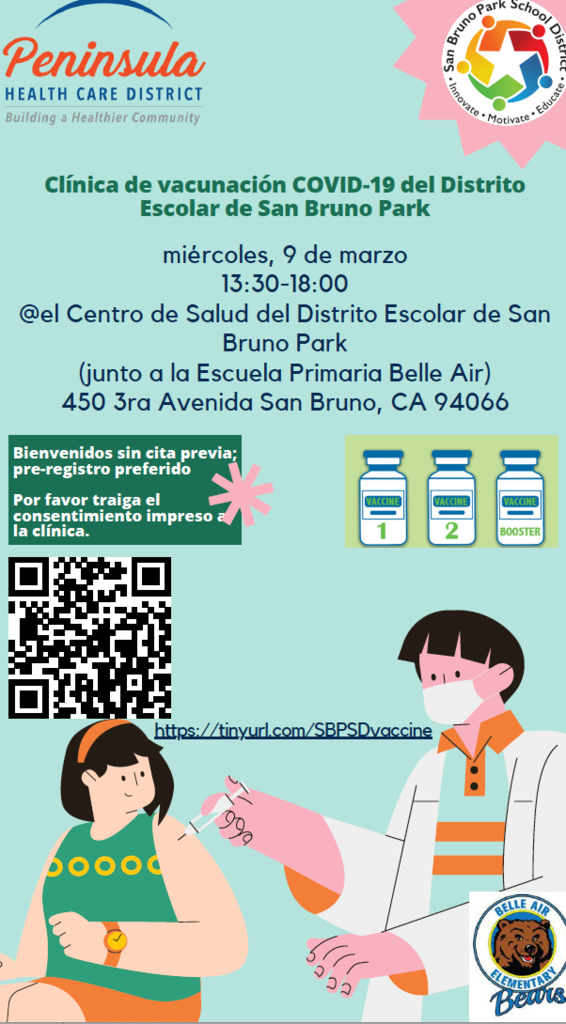 BAYSHORE COMMUNITY CLEAN UP sponsored by Youth Particapatory Action Research team and your PTO Tuesday March 8 TODAY! and Thursday, March 10 2-3pm Parents check in with PTO at the Garden Gate, clean up perimeter of school Thank you students, thank you PTO. It truly takes a village. SEE YOU THERE! ** LIMPIEZA COMUNITARIA DE BAYSHORE patrocinado por el equipo de Investigación de Acción Participativa Juvenil y su PTO Martes 8 y martes 10 de marzo 14:00-15:00 Los padres se registran con el PTO en la entrada de la escuela, limpian el perímetro de la escuela Gracias estudiantes, gracias PTO. Realmente se necesita un pueblo. ¡TE VEO ALLÍ!** 海湾社区清理 由青年参与行动研究团队和您的 PTO 赞助 3 月 8 日星期二和 3 月 10 日星期二 下午 2-3 点 家长在学校入口处与 PTO 签到,清理学校周边 谢谢同学们,谢谢PTO。这真的需要一个村庄。 到时候那里见!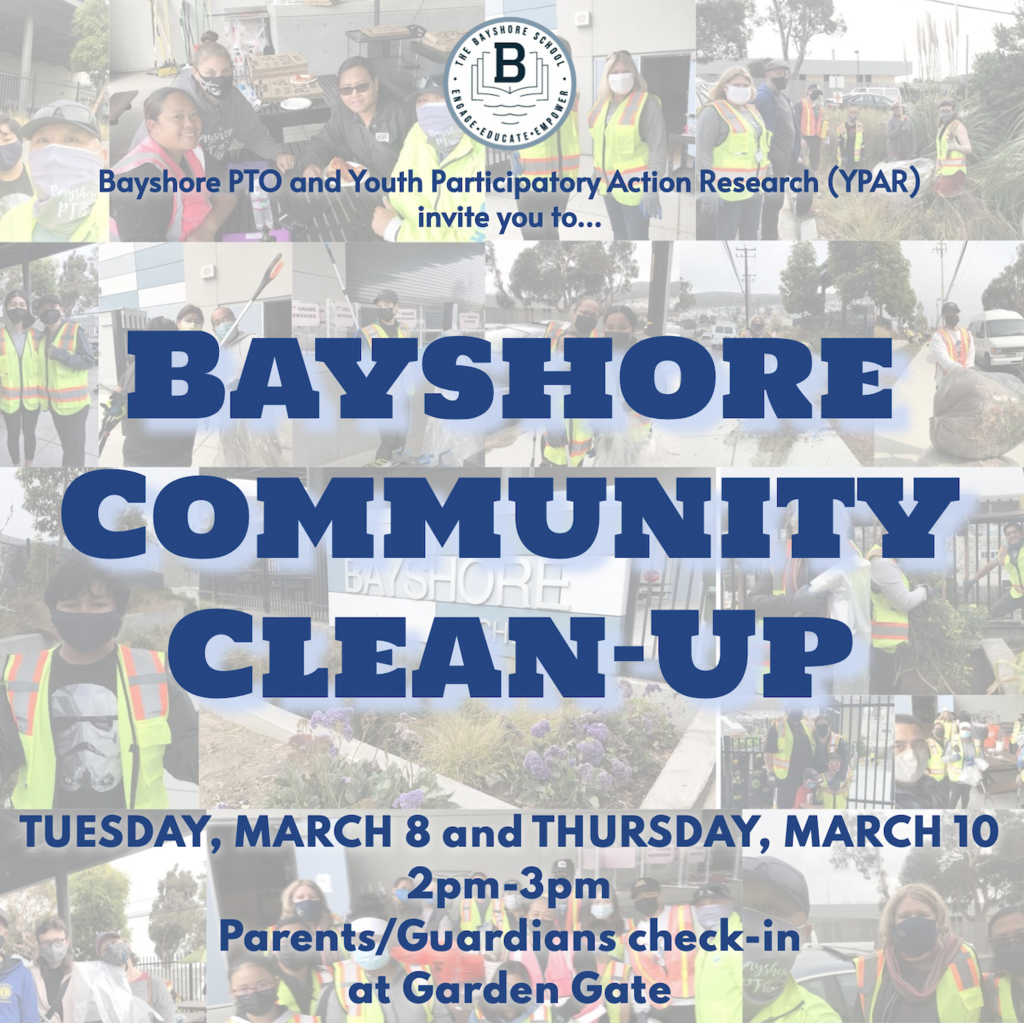 This is Read Across America Week! See picture for Spirit Week and be on the lookout for our reading challenge!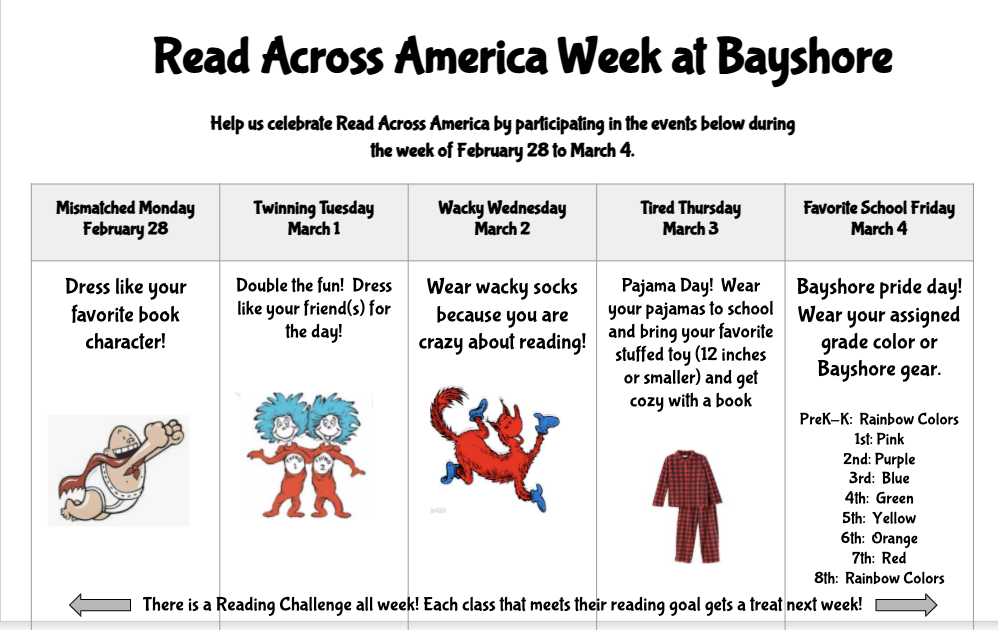 Don't forget to use you COVID-19 At-Home test kit today and tomorrow before returning to school. If you test positive, please call the school and stay home. Thank you.

Bayshore Wellness Pantry is opening soon! Please read the form for more information, and fill it out by Friday, February 25, if it would be useful to you. ***¡Bayshore Wellness Pantry abrirá pronto! Lea el formulario para obtener más información y complételo antes del viernes 25 de febrero, si le resulta útil.*** Bayshore Wellness Pantry 即将开业!请阅读表格以获取更多信息,如果对您有用,请在 2 月 25 日星期五之前填写。
https://forms.gle/vr8MLdbhFyuXHeHEA

All students and staff will receive an At-Home COVID-19 kit to test before returning to school on February 28. Please test on February 25 and February 27. If the test comes back positive, please stay home and call the school. Kits are going home Wednesday, Feb. 16. Please call the school with any questions. Todos los estudiantes y el personal recibirán un kit de COVID-19 en casa para realizar la prueba antes de regresar a la escuela el 28 de febrero. Realice la prueba el 25 y el 27 de febrero. Si la prueba da positivo, quédese en casa y llame a la escuela. Los kits se enviarán a casa el miércoles 16 de febrero. Llame a la escuela si tiene alguna pregunta. 在 2 月 28 日返回学校之前,所有学生和教职员工都将收到一个在家中进行测试的 COVID-19 工具包。请在 2 月 25 日和 2 月 27 日进行测试。如果测试结果呈阳性,请留在家里并致电学校。 工具包将于 2 月 16 日星期三回家。如有任何问题,请致电学校。





Free COVID-19 Testing EVERY FRIDAY, 8am - 8pm EVERY 2ND and 4TH SATURDAY, 8am - 8pm The Bayshore School 155 Oriente St Pre-register at
https://lhi.care/covidtesting
You MUST have an appointment.

Good afternoon families and staff- please don't forget to use your rapid test today, and the second on Sunday, per the instructions sent home before break. They are attached here if you lost them. A reminder that if your child tests, positive, is sick or has Covid symptoms, PLEASE KEEP THEM HOME and call the school to let us know. If you have ANY questions, please text Mrs. Baker at 415-601-6292 or email
mbaker@thebayshorechool.org
. Happy new year!! Bye 2021! ***por favor no olvide usar su prueba rápida hoy, y la segunda el domingo, según las instrucciones enviadas a casa antes de las vacaciones. Están adjuntos aquí si los perdió. Un recordatorio de que si su hijo da positivo, está enfermo o tiene síntomas de Covid, POR FAVOR MANTÉNALOS EN CASA y llame a la escuela para informarnos. Si tiene CUALQUIER pregunta, envíe un mensaje de texto a la Sra. Baker al 415-601-6292 o envíe un email a
mbaker@thebayshorechool.org
. ***请不要忘记在今天和周日使用您的快速测试,按照休息前寄回家的说明进行。如果您丢失了它们,它们会附在此处。提醒您,如果您的孩子检测呈阳性、生病或有 Covid 症状,请将他们留在家中并致电学校告知我们。如果您有任何问题,请发短信给 Baker 夫人 415-601-6292 或发送电子邮件至
mbaker@thebayshorechool.org
。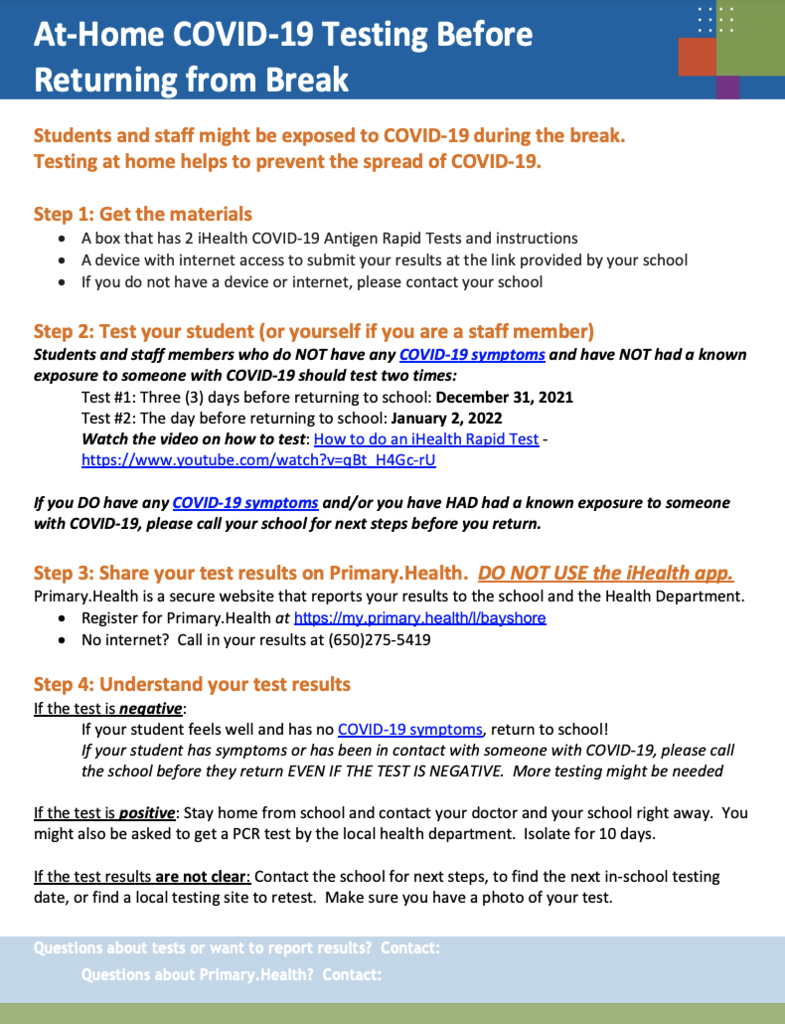 Bayshore Community- the food bank will be open tomorrow, Wednesday 12/22, 8:30-11:30. Happy Holidays! ***el banco de alimentos estará abierto mañana, miércoles 22/12, 8: 30-11: 30. ¡Felices vacaciones! ***食品银行将于明天 12 月 22 日星期三 8:30-11:30 开放。节日快乐!***bukas ang food bank, Miyerkules 12/22, 8:30-11:30.

All students and staff will receive an At-Home COVID-19 kit to test before returning to school on January 3. Please test on December 31 and January 2. If the test comes back positive, please stay home and call the school. Kits are going home Wednesday, Dec. 15. Please call the school with any questions. Todos los estudiantes y el personal recibirán un kit COVID-19 en el hogar para probar antes de regresar a la escuela el 3 de enero. Por favor, haga la prueba el 31 de diciembre y el 2 de enero. Si la prueba da positivo, quédese en casa y llame a la escuela. Regreso a casa el miércoles 15 de diciembre. Por favor llame a la escuela si tiene alguna pregunta. 在 1 月 3 日返校前,所有学生和教职员工将收到居家 COVID-19 试剂盒进行测试。请在 12 月 31 日和 1 月 2 日进行测试。如果测试结果呈阳性,请留在家中并致电学校。 套件将于 12 月 15 日星期三回家。如有任何问题,请致电学校。